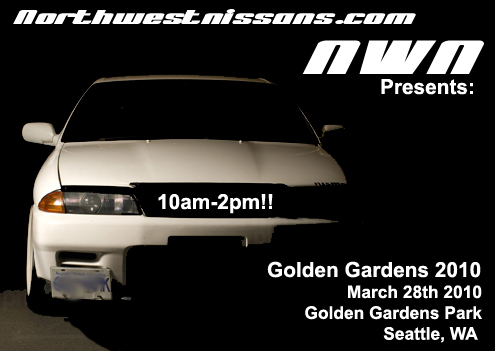 The Northwest Nissans meet at Golden Gardens in Seattle is the de facto kickoff of the Northwest season.
Hundreds of Nissans, Datsuns, and plenty of other types of car show up all over WA, BC, MT, OR, ID, CA and who knows where else. Check out all the rare cars and crazy swaps and mods of every type from the Northwest scene.
Don't miss this chance to get out of winter hibernation, hang out, meet the people you yap with on NWN, and see tons of cool cars. People also bring parts to sell so bring some cash for that special find or make some by selling your extra stuff.
All Evergreen drifters are encouraged to show up early so we can all park together. If you have a drift machine bring it out and chat with the staff about the 2010 season. This is pretty much the only time you'll catch us hard parking.
We're working on some cool giveaways so stay tuned for more details.
Please note that this is located at a public park. It is important to positively represent the scene by driving legally and quietly at all times coming to and from an event. Aggressive driving and being a general jackass impresses no one and makes the non car people hate us. Don't be 'that guy' and save it for the track